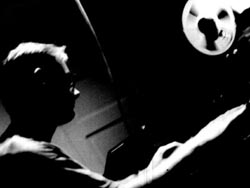 The Tic Tok Men (sometimes abbreviated TTM or TTTM) were a synthpop, Krautrock style electronic quartet founded in Seattle Washington USA that existed between 1985 to 2007. They state they "generated their being out of collective necessity". The original members were Brian VonHorst (Voice, Keyboards, FX) Seven Graylands (Keyboards, Voice, FX) and Atian Kroft (Voice, Keyboards, FX). Later that year Dieter Blank (Drum patterns, Keyboards, Noise.) joined the band.
In 1989, the Tic Tok Men refused to perform live and began construction of the Tic Tok Men Compound (TTMC) their distribution entity and recording facility. The TTMC contains a large collection of synthesizers and electronic instruments.
After their last early years album Remote Control in 1995, the four disassembled and embarked on separate projects. Dieter and Atian returned to Berlin, Seven surrounded himself in computing and Brian has mysteriously vanished somewhere in the United States. Before disbanding, the Tic Tok Men decided to regroup on February 20, 2000 (02/20/2000).
Dieter, Atian and Seven regrouped in 1999 to record in the newly finished Tic Tok Men Compound. On January 1 they finished the final mix of "Conduit", the first song recorded by the Tic Tok Men in five years.
The Tic Tok Men have remained mostly underground but enjoy a large cult following. They often refer to their existence as "reclusive".