R E C O M P U T E R I Z A T I O N
Collective:Decomputerization

In 2001, the Tic Tok Men were asked by Blank Grid if a remix of Decomputerization would be possible. Shortly after, several other artists were also interested in providing a remix of the song. The files were made available for several months and artists from around the globe participated. This Recomputerization CD's are the fruits of their labour.
The Tic Tok Men would like to take a moment to thank all the talented artists involved in this project. It has been a real pleasure.
Where possible, a link has been provided to the artists websites. These are all very talented artists, so take a moment to listen to their other works as well.
Recomputerization : Collective Decomputerization (RC1)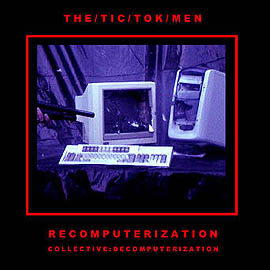 Track Listing
1 - John Ingram: Butlerian Jihad Mix (USA)
2 - Zerozillion: Remix ()
3 - 12 Step Staircase: Remix (USA)
4 - Blank Grid: Visit 3 Remix ()
5 - Ripper Inc: Die Maschine pt. 1 & 2 ()
6 - Darkestred: Destruction Mix ()
7 - AutoCad: Remix ()
8 - Karl Olson: CouZ-n'S reMiX (USA)
9 - Controlled Dissonance: Diecomputerization (USA)
* - Bonus Track (?)
Total Running Time: 45:39

Recomputerization : Collective Decomputerization (RC2)
Track Listing
10 - Audio Stress Test: Remix (UK)
11 - L8R: Dee's Computer Station Remix (Ireland)
12 - Unscrew: Rock-n-Roll Computer Mix (USA)
13 - Ant: Remix (USA)
14 - Hyperdriver: 2:30 minute mix (USA)
15 - Scribe Machine: Mentat Mix (USA)
16 - DreamLin: No Computer Mix (Russia)
17 - Lofat Rhythm Syndicate: Decomposed Disco remix (USA)
18 - Fun Confusion: Future Funk Mix (USA)
19 - Disfony: Scroll Lock Remix (USA)
Total Running Time: 42:39